Brain-computer interface applications
Future inventions specially in the Brain computing Industy already started together with AI Artificial intelligence the future already started and in many fields the technologies  tope the human brain.
Future developments are focused on AI and BCI inventions and covers a great area  of digital innovation. New solutions reach the IT markets nearly at a daily bases into all industries and households.
TRANSPORTATION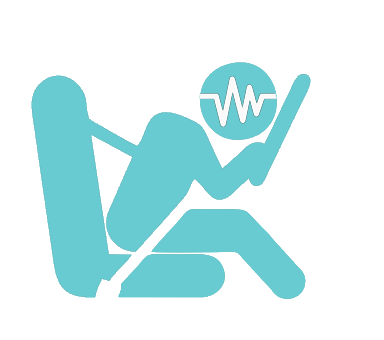 NeuroMatic Auto
Safety Driving Solution
Neuromatic Auto is a unique product to Monitor  complex and continuous Driving Effectiveness  (DEM). Neuromatic solutions distance itself from Driver Assists because of the Brain Activity Tracking and therefore is  more effective in Drowsy Detection. Neuromatic Auto ecosystem includes:
A Wearable headset is connected to a smartphone and Detects Driver Drowsiness (DDD) to predict stage one sleep and  warns the drivers before sleep-related accidents, as well as on others reasons like, aggressive driving style, uncontrolled driver condition from alcohol, narcotic, soporific or unhealthiness.
The Mobile application supports Apple CarPlay, Android Auto and can connect to onboard OBD2, Head-Up Display (HUD), displays brain attention level, sends alert, notifications and saves biosensors and telematics data to cloud storage.
Web application handles personal data from the cloud storage and calculates the Driving Effectiveness in 6 levels based on measured brain activity , driving time of day (night, morning, day), location (urban, interurban, mountains ), weather, speed, age etc., displays stats, trends, archive, groups sharing.
Technologies
The technology space has long been the most exciting and watched industry for a number of years now. Innovations in the sector have radically changed our life's.  it has created completely new industries and services.
Future Cars
Tesla recently unveiled its fully electric heavy duty truck after months of delays and teasers. The Tesla Semi features striking looks and is an ambitious challenge to the haulage industry. In unveiling the all-electric Tesla Semi, Elon Musk fulfilled his dreams
Robots AI
This technology space is probably the most attractive  industry for a number industries right now. Innovations in this sector have radically changed the way comunicate. In many cases, it has created completely new industries and services.
COMMUNICATION
BCI/EEG devices to control Augmented Reality
Brain-computer interfaces for communication and control.
For many years people have speculated that electroencephalographic activity or other electrophysiological measures of brain function might provide a new non-muscular channel for sending messages and commands to the external world - a brain-computer interface (BCI). Encouraged by new understanding of brain function, by the advent of powerful low-cost computer equipment, and by growing recognition of the needs and potentials of people with disabilities, these programs concentrate on developing new augmentative communication and control technology for those with severe neuromuscular disorders, such as amyotrophic lateral sclerosis, brainstem stroke, and spinal cord injury. The immediate goal is to provide these users, who may be completely paralyzed, or 'locked in', with basic communication capabilities so that they can express their wishes to caregivers or even operate word processing programs or neuroprostheses.
New chips are continuously invented and will guide us to a new future of Medicine, Automotive, Education and Information delivery.
read more
MACHINES DO IT BETTER
RPA can be an upgrade over humans when accuracy and speed count—not just in transaction processing but also in more complex tasks such as regulatory reporting and contract management.
"QUICK WIN" SOLUTIONS
These technologies can scale rapidly, provide a means to capture operational expertise for broader deployment, and deliver services globally on a 24/7 schedule in multiple languages.
HIGHER-IMPACT SERVICES
Automating parts of the annual compensation process enables the redeployment of HR resources to focus on coaching managers and developing engagement action plans. RPA can also directly increase HR
The robots are coming
Robotic process automation (RPA) works at the user interface level, bridges the gap between disparate technologies, and performs repetitive rules-based processes.
gadgetes
Gadgets of the Future
Technology is developing at an enormous speed and you never know what's next to come, in the nearest future.
One of those who like to contemplate about the future of technology is French designer Josselin Zaigouche who decided to design this incredible gadget, dubbed Apple Black Hole (and it's not because it will such Apple down if it hits the market). The name was probably inspired by the numerous applications one can find in Apple's device (such as iPhone and iPad).
read more
5 Future Technologies That Will Be Mainstream
Tech companies rang in the start of the new year by unveiling some of their ambitious plans for the coming months. Startups and multinational companies alike are beginning to feel the ripple effects of innovation in the industry, with technology becoming more intertwined in everyday lives each year. As 2019 progresses, here are 5 future technologies you can expect to reach the public in the next couple of years
1. The Internet
The Internet of Things has long been talked about amongst tech insiders as the next big innovation in home technology.
2. Automation
While large-scale innovation in automation has traditionally been limited to the production side of society
3. BCI
Brain-computer interfaces (BCI) is defined as computer technology that can interact with neural structures by decoding and translating information from thoughts (neuronal activity) into actions.
4. AR
Augmented reality (AR) is already used for medical treatments, as well as in diagnosing diseases. For instance, medical students utilize AR to improve their medical practice.
5. AI
Artificial intelligence (AI) is seeing the light and applications of the technology are already being worked on
Technology has forever changed the world we live in. We're online, in one way or another, all day long. Our phones and computers have become reflections of our personalities, our interests, and our identities. They hold much that is important to us.
James Comey
Invest in your future today